CHURCH OF SCIENTOLOGY OF NEW ZEALAND
Spirituality. Heritage. Tradition. History. Education. Learning. These are pillars on which rests Scientology's new Ideal Org of New Zealand, where Scientologists locally and from across the Pacific gathered with friends and supporters on Saturday, January 21, to inaugurate the rebirth of the second oldest Church of Scientology in the world.
GRAND OPENING EVENT
A Treasured Landmark Reborn—Scientology Opens New Church Atop Auckland
LEARN MORE
VIDEOS
PHOTOS
WEBSITE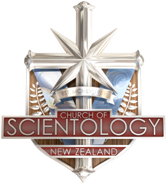 Learn more about the Church of Scientology of New Zealand, their Calendar of Events, Sunday Service, Bookstore, and more. All are welcome.
Go to
www.scientology-auckland.org
MAP
LOCATION
Address:
136 Grafton Road, Grafton
Auckland, 1010
New Zealand

Phone: (09) 379 0900
SCHEDULE
Hours
Open Every Day
Mon
–
Fri
9:00 a.m.–10:00 p.m.
Sat
–
Sun
9:00 a.m.–6:00 p.m.