CLEARWATER, FLORIDA
CHURCH OF SCIENTOLOGY DEDICATES LANDMARK BUILDING AT SPIRITUAL HEADQUARTERS
JUNE 29, 2014
More than 4,000 Scientologists gathered in downtown Clearwater, Florida, on Sunday, June 29, to mark the dedication of the landmark Coachman Building. The historic structure now stands transformed as the religious training and counseling center for more than 2,000 members comprising the ecclesiastical ministry of the Flag Land Base, the international spiritual headquarters of Scientology.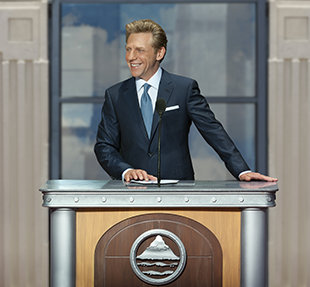 In recognition of this historic occasion, Mr. David Miscavige, Chairman of the Board Religious Technology Center, led the dedication ceremonies.
Originally built in 1916, the Coachman Building has long been a downtown Clearwater landmark. The five-story, Georgian Revival structure was constructed by Pinellas County Commissioner Solomon Smith Coachman as the county's first high-rise.
Through meticulous restoration, the Church preserved the Coachman Building's original features, including its distinctive brick façade, its signature Flemish bond pattern and arched corbels at the upper floors.
In tribute to the history of Clearwater, the Church established a permanent exhibit extending the length of the Coachman's Cleveland Street and Fort Harrison Avenue exterior. The exhibit features photographs, informational displays and artifacts that trace the city's heritage from its earliest days to the present. Among the many Clearwater milestones the exhibit depicts are:
The city's meteoric growth during Florida's land boom of the 1920s;
The 1948 move by the National League's Philadelphia Phillies of its spring training headquarters to Clearwater, where the team continues to train each year;
And the penning of the legendary rock hit "Satisfaction" by Keith Richards and Mick Jagger of the Rolling Stones during a stay at the nearby Fort Harrison.
_________________
Completion of the Coachman Building signifies another step in the ongoing expansion of the Flag Land Base in Clearwater, including:
Dedication of the 377,000-square-foot Scientology cathedral—the Flag Building;
Completion of an 11-month, million-man-hour project to restore the 267,000-square-foot Fort Harrison religious retreat;
Dedication of the 38,000-square-foot Fort Harrison Park, a public walking park adjacent to the Fort Harrison retreat;
The grand opening of the 172,000-square-foot Oak Cove, a 13-story religious retreat for visiting parishioners;
Top-to-bottom renovation of the 132,000-square-foot Sandcastle advanced religious retreat;
Renovation of the 44,500-square-foot Osceola religious retreat;
Construction of a 139,000-square-foot, three-story parking facility to serve the Flag Building and the future L. Ron Hubbard Convocation Center—set to span an entire city block;
Opening of an eight-building apartment complex to provide housing for Church ministry;
And renovation of an additional 15-building complex also for the ministry.
_________________
Facilities at Flag have expanded from two buildings in 1975 to 56 today. And all to accommodate an ever-growing number of Scientology parishioners traveling to Clearwater from around the world to participate in religious services.